Book Launch: Hughes and Tarrant on Men, Families, and Poverty
Date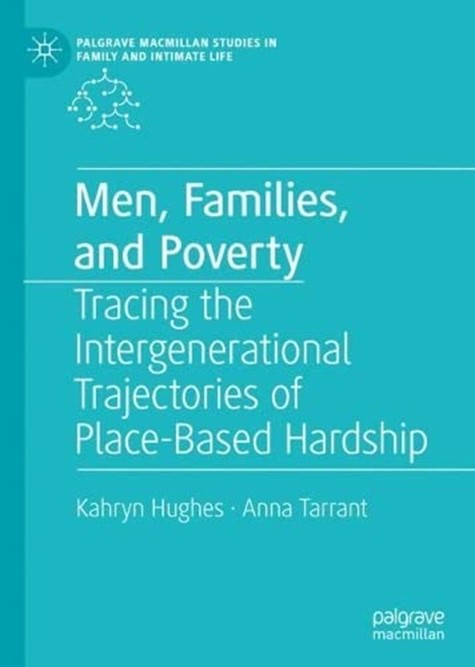 Date

Wednesday 7 June 2023, 12 - 1.30pm

Location
We are excited to invite you to an online book launch      join here
Dr Kahryn Hughes, University of Leeds, and Professor Anna Tarrant, University of Lincoln  will be discussing their new book: "Men, Families, and Poverty: Tracing the Intergenerational Trajectories of Place-Based Hardship"
This book develops a new sociology of the intergenerational and longitudinal dynamics of men's family participation in relation to their trajectories through poverty. By addressing the ostensible absence of men from low-income families in existing literature and policy, the authors interrogate the interconnectedness of poverty, family, and place while paying explicit attention to the trajectories of men through and across low-income families and localities. Through qualitative secondary analysis of four linked datasets from research within low-income families over a twenty-year period, Hughes and Tarrant argue that there is much to be gained from examining both men's accounts of family and poverty across the lifecourse and the accounts of men experiencing family poverty. In so doing, they develop a new theoretical family lifecourse framework that accounts for the dynamic and place-based character of poverty and its implication for families. Thus, the book foregrounds the development of a more comprehensive sociology of family poverty.
International Discussants 
Professor Jane Gray is Professor of Sociology at Maynooth University.  Her scholarship centres on questions relating to families, households and social change, with a particular focus on biographical life course analysis.  She was national co-ordinator for Ireland on the FP7 funded project RESCuE: Citizens' Resilience in Times of Crisis (http://rescueproject.net/), and co-edited the book Poverty, Crisis and Resilience (Edward Elgar, 2020) with Marie Boost, Jennifer Dagg and Markus Promberger.  She has a longstanding interest in sharing and re-using qualitative social science data.
Professor Kevin Roy, Ph.D., is a Professor in the Department of Family Science at the University of Maryland College Park School of Public Health. His research focuses on the life course of young men on the margins of kin networks and the work force, as they transition into adulthood and fatherhood. Through participant observation and life history interviews, he explores men's health equity and disparities (specifically trauma), masculinities, and policy systems, such as immigration, incarceration, and community-based parenting programs. He  served as a deputy editor for Journal of Marriage and Family and has published over 50 articles and chapters, in journals that include Pediatrics, Journal of Family Theory and Review, Social Problems, American Journal of Community Psychology, and Family Relations.  He is editor for the Sourcebook on Family Theories and Methodologies (2022) and published Nurturing dads:  Social initiatives for contemporary fathering in the ASA Rose Series at Russell Sage Foundation Press (2012).